Is an OB/GYN Salary Worth It?
An obstetrician/gynecologist (OB/GYN) is a physician who specializes in providing medical care to women throughout every phase of their lives. Obstetrics, specifically, is the study of the pregnancy and childbirth process. While the field of gynecology is the study of the female reproductive system as a whole. The complexity of this profession typically results in a generous OB/GYN salary.
Because OB/GYNs receive education and training in both fields, they can treat a variety of medical problems in women. Specializations include: cancer, infertility, operative gynecology, pregnancy and delivery, urinary tract disorders, and more.
OB/GYNs are compensated more than the average physician for the work that they do. But like other physicians, high medical school student debt is a major issue that many OB/GYNs face. Here's what you need to know if you're trying to decide whether the average OB/GYN salary is worth taking on the medical school debt needed to enter this field.
How to become an OB/GYN
Like other physicians, OB/GYNs must earn a medical degree. But they'll first need to earn a bachelor's degree and have a high enough GPA and MCAT score to gain entrance to an accredited medical school. If accepted, most medical school programs take four years to complete.
After finishing med school, OB/GYNs will need to spend at least four years in residency in order to become eligible for board certification with the American Board of Obstetrics and Gynecology. This requirement is actually on the lower end of the spectrum when it comes to residencies for medical specialties.
More time in residency will be required, however, for OB/GYNs who want to become board certified in certain subspecialties. Once the residency requirements have been met, OB/GYNs must finally pass a Qualifying Exam (written test) and Certifying Exam (oral test) to receive board certification.
Average OB/GYN salary
Each year, Medscape releases its annual physician compensation data report. In its latest 2021 report, the salary survey data included responses from over 18,000 physicians. Based on the responses from these survey participants, Medscape found the average OB/GYN salary in 2020 to be $312,000.
This average yearly salary put OB/GYNs near the bottom-half of the lowest salary of the medical specialties studied in the survey, earning $199,000 to $214,000 less on average than orthopedic surgeons and plastic surgeons who ranked No. 2 and No. 1, respectively, in the study for highest salary.
However, the most recent salary information from the Bureau of Labor Statistics found that OB/GYNs still have a higher salary than the average medical school graduate.
In 2020, the median annual wage for obstetrician/gynecologists according to BLS data was $239,120. That was $20,000 more than the median for all physicians and surgeons and $54,500 more per year than the average salary for pediatricians.
Private practice vs. employment
The American Medical Association's Physician Practice Benchmark Surveys have been studying the practice arrangements of physicians since 2012. The latest report found that OB/GYNs are one of the few physicians that still tend to prefer private practice ownership. Nearly 48% of all obstetrician/gynecologists said they worked in physician-owned practices. That percentage was third-highest, behind only physicians with surgical subspecialties, and radiology professionals.
In addition to enjoying increased autonomy, OB/GYNs in private practice are likely to earn more per year. Medscape's 2021 OB/GYN compensation report found that self-employed OB/GYNs made an average of $332,000 per year compared to $300,000 for employed OB/GYNs. That's an annual salary difference of $32,000.
OB/GYN student debt
To estimate the OB/GYN student debt you could potentially incur, you'll want to study the average debt numbers for medical school graduates as a whole.
Medscape's 2021 Residents Salary & Debt Report found that 60% of medical school students have more than $150,000 of student debt. More than half (52%) of survey respondents said that their loan balances were higher than $200,000. And 24% reported student loan debt exceeding $300,000.
How to pay back your OB/GYN student loans
Most OB/GYNs with federal student loans will probably want to consider joining an income-driven repayment plan during your residency program. With an average resident salary of $62,700, an IDR plan could keep your payments manageable until you're able to finish residency and begin earning your full attending salary.
After completing residency, however, you face a major fork in the road in regards to your student loan repayment strategy. The best plan for you will largely depend on whether you plan to open an OB/GYN private practice clinic or to work for a nonprofit hospital or school instead.
OB/GYNs working in private practice
If you decide to work in a private practice or open your own after residency, IDR is highly unlikely to benefit you. Instead, adopting an aggressive repayment strategy will usually save you the most money.
Let's take a look at a quick case study to see why. Imagine that you graduate with $200,000 in student debt with an average interest rate of 6.5%. For the sake of the example, we'll assume that all your student loans are federal loans.
After graduating from medical school, you spend four years in residency with a starting salary of $60,000 and an ending salary of $65,000. After residency, you take a job at a private practice with a starting salary of $275,000 and a 3% salary growth rate after that.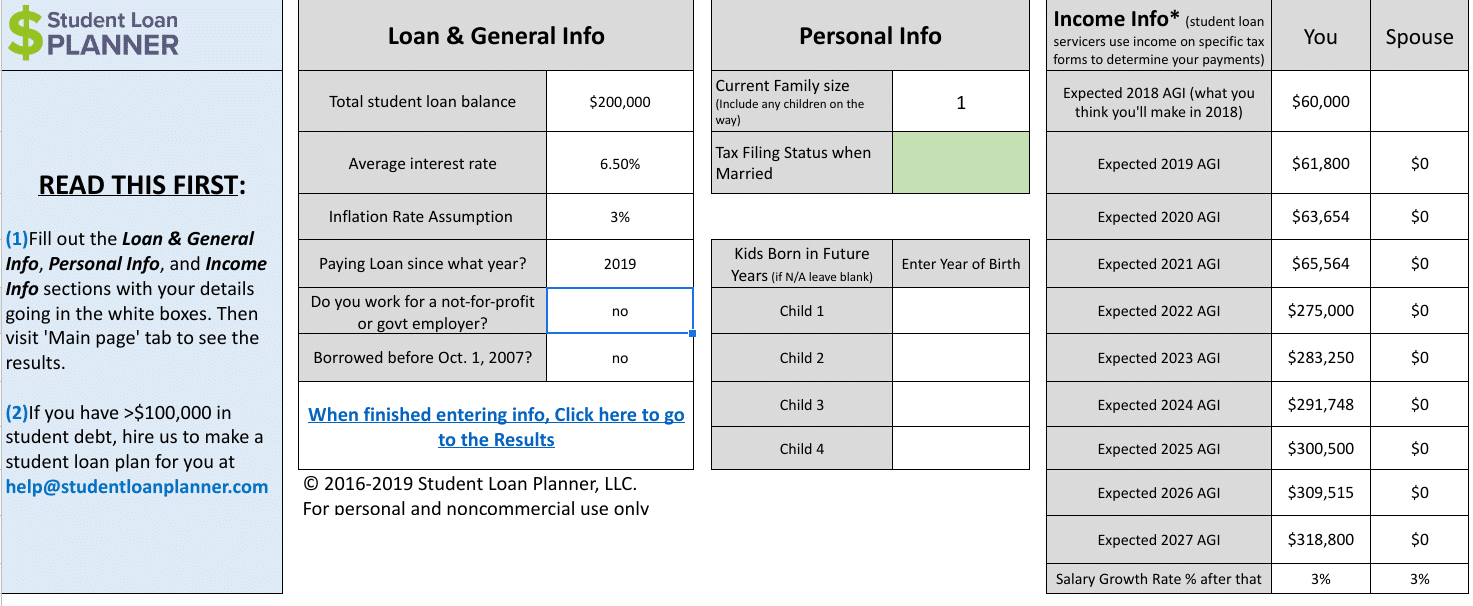 When you plug these numbers into the Student Loan Planner® calculator, you'll find that IDR would cost you an additional $57,000 to $98,000 over the life of your loans.

Beginning in Year 5 (your first year with an attending salary) your payment on REPAYE would increase to $2,060.

But if you chose to pay $2,500 per month instead, you'd save yourself over $31,000 in interest. And if you were also able to refinance at 3.5%, you'd save over $73,000.


OB/GYNs working for a nonprofit employer
If you choose nonprofit employment instead, pursuing Public Service Loan Forgiveness may be your best option. Assuming all the same debt and income numbers used in the example above, you'd pay over $126,000 less with PSLF than you'd pay on the Standard 10-Year Repayment plan.

Although this is a huge savings, it's also important to remember that employed OB/GYNs make $50,000 less per year on average than private practice owners. That means that you could be sacrificing nearly $300,000 of income during the six years that it would take you to qualify for PSLF after finishing your residency.
If you're certain the nonprofit employment is right for you, then you definitely need to consider PSLF. However, the math indicates that you probably shouldn't choose nonprofit work for PSLF alone.
Get a comprehensive OB/GYN student loan repayment plan
If you're looking for help determining the student loan repayment plan that would save you the most money, our Student Loan Planner® consultants are here for you. They've helped thousands of student loan borrowers take on over a $1.44 billion in student loan debt.
If you owe $20,000 to $1 million in OB/GYN student loans from your undergraduate program and medical school, Student Loan Planner®'s consultants are the experts who can create a customized repayment plan for you. Over 90% of our consultees find they can save an average of $50,000 in projected savings over the life of their loans. See how much you could save. Book a consultation today.
GET A $1,000 BONUS WHEN FINANCING A PRACTICE!
Start your search for financing to buy the dental practice of your dreams. If you use one of our partner banks, we'll give you a $1,000 bonus when you close your practice loan (valid for practice loans of at least $100,000 in size). See what bankers are available in your state with the button below.
Best Student Loan Refinancing Deals